Saskatoon Casino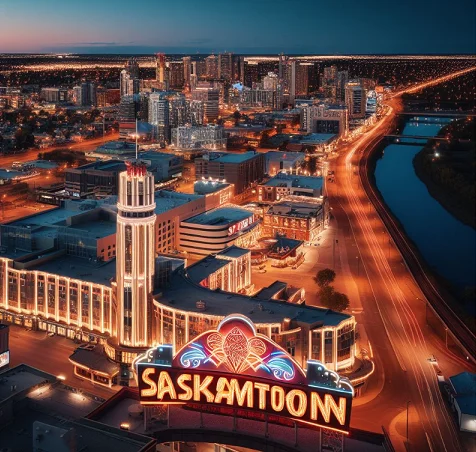 When it comes to the thrill of wagering and gaming in the vibrant prairie city of Saskatoon, Canada, the offering is notably singular yet renowned nationwide. The iconic casino in Saskatoon stands as a testament to the city's passion for gaming, despite being the lone establishment of its kind. This document aims to serve as a comprehensive guide to this distinguished gaming institution. In the following sections, we will uncover the ways to reach this casino, delve into the array of facilities it offers, and unveil its operating hours. Get ready to embark on an exciting journey into the heart of Saskatoon's esteemed casino scene.
Dakota Dunes Casino
The Dakota Dunes Casino, set on the historical Whitecap First Nation lands, is an essential part of Saskatoon's vibrant gaming scene. This beautifully designed casino radiates an inviting ambiance, enhanced by its rich, earthy tones, and the captivating artwork of indigenous artists. It offers a multitude of gaming options, including an impressive collection of over 620 slot machines. Gaming enthusiasts can delve into various classic games, such as Poker, Blackjack, Baccarat, and Roulette, promising an exhilarating gaming experience.
| | |
| --- | --- |
| Location | 204 Dakota Dunes Way, Saskatoon, SK S7K 2L2, Canada |
| Number of Slots | 620+ |
| Phone Number | (306) 667-6400 |
| Attached Hotel | Yes |
| Amenities | Indigenous-inspired decor, selection of classic games |
In addition to its gaming offerings, Dakota Dunes Casino is lauded for the breadth of amenities it provides. Patrons can choose from multiple dining options, ranging from high-end gourmet meals to casual, satisfying snacks, catering to a broad spectrum of tastes and dietary preferences. The attached hotel is a beacon of comfort and luxury, providing well-appointed rooms and superior amenities. The casino is famed for its excellent customer service, with a dedicated team of professionals offering assistance and enhancing the overall experience for visitors. Operating around the clock, the casino welcomes gaming enthusiasts at any time of the day or night, further showcasing its commitment to providing a seamless and accommodating service. Therefore, Dakota Dunes Casino stands out as a unique blend of thrilling gaming, delectable dining, luxurious accommodation, and top-notch customer service, reinforcing its position as a must-visit destination in Saskatoon's gaming scene.